Our client wanted something different. An aircraft interior that would provide them the space to conduct business, feel relaxed, to transport a required capacity of people, and that would be modern in all aspects of its design. Business class seating and first-class cabins at the fore and aft of the interior are connected by a central relaxation and refreshment space; in addition a long table for formal dinners or as a board room, separate spaces for meetings and meal times, an office, and several bathroom spaces interspersed throughout the aircraft's interior. This however is only where it begins. Because VIP Completions provides more that managed design. Professional project management is at the core of our DNA to ensure our clients receive a managed experienced from idea to delivery. That is what our business is based on, and that is what makes us thrive. Please scroll on below to view some of the different aspects of this jets design.
We have made available some of the designs from this commission with the kind approval of our client, with the hope that they may stimulate your thought process for your next custom VIP jet.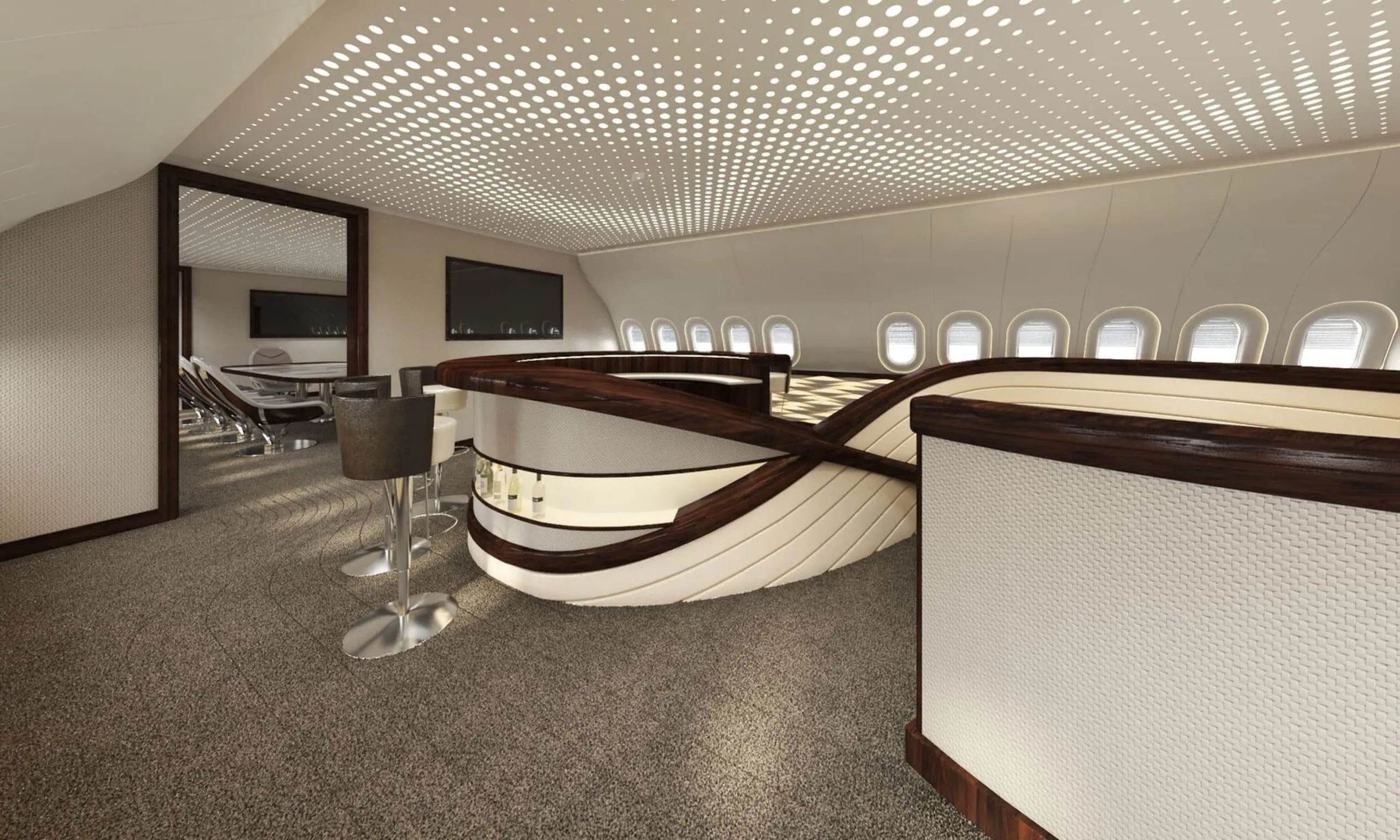 A place to relax and unwind.
Both the fore and the aft of the airplane are connected by a central relaxation space where the airplanes passengers can meet to eat, drink, talk, or simply read or listen to music. The customer wanted to connect both the first-class and business-class seating zones at each end of the airplane respectively, without too much surrounding furniture reducing floor space and providing the impression of larger room. A long table is situated in the next room to the aft with then access to additional private rooms, the office and additional interior features requested by the owner.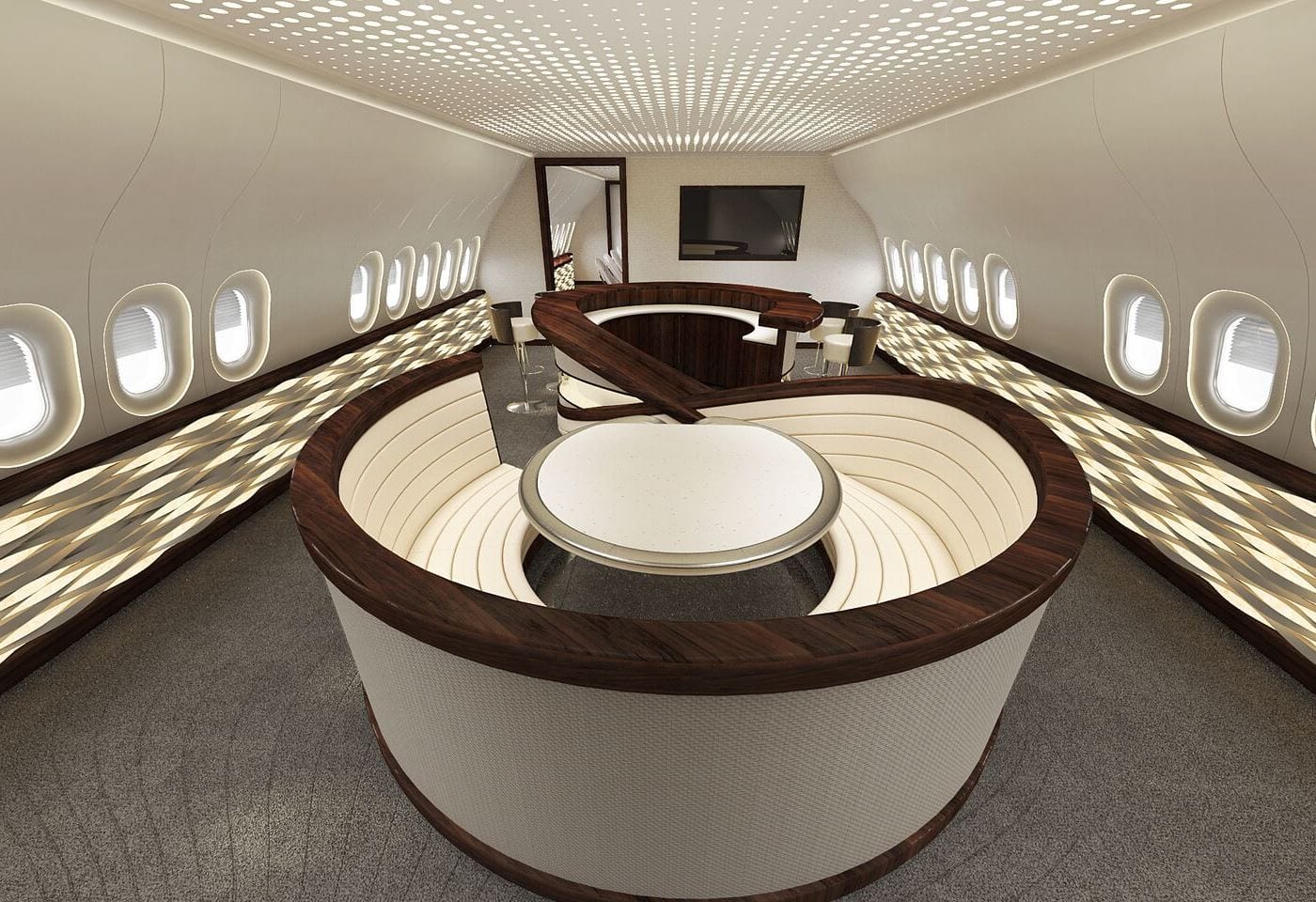 The Best Jet Interiors Depend On It.
VIP Completions jet interiors are not just designed for the perfect aesthetic. They're designed for the perfect fit too, focusing on the environment and geometry of each space. From entry to the aircraft to walk-through to the aft, we reach unprecedented feats of engineering — and imagination, by devising new ways to do more in less space. Until perfection is reached, we ensure as many iterations as required are produced. Which in turn is the process that make our interiors more comfortable, practical, desirable, and unique than any other.
Defining the floorplan ensures everything conceived in your requirement specification has the feasibility to fit. To do this we ensure that as many iterations of design as required are produced to ensure that as the client you completely satisfied with the layout design. The layout below features first-class seating at the front, followed by bathroom areas, a private seating area and the office. Moving down the aircraft the next room is a central relaxation area that connects the fore and aft of the aircraft together. The next room is a formal seating area around a long table required by the client for meetings and meals. The next rooms beyond feature lay-flat seating that convert to beds, followed by further bathrooms, and towards the aft business-class seating and a rear galley.

A modern office design providing the space to think and deliver your best work. The use of materials is well thought through to provide a feel of quality, clean in appearance, and yet with depth to the design and build. Offices this inspiring are few and far between, and our client was seriously impressed by what we achieved in this private and reserved space within the jet.
Engineered To The Very Last Detail
The wall is padded and textured to provide a multi-dimensional feel and a larger space that in reality. Leather, alcantara, wood veneers, matt and polished metals are used to provide this office space a very special feeling.
Multiple options for the very same jet.
Some of the many external liveries presented with this jets interior design.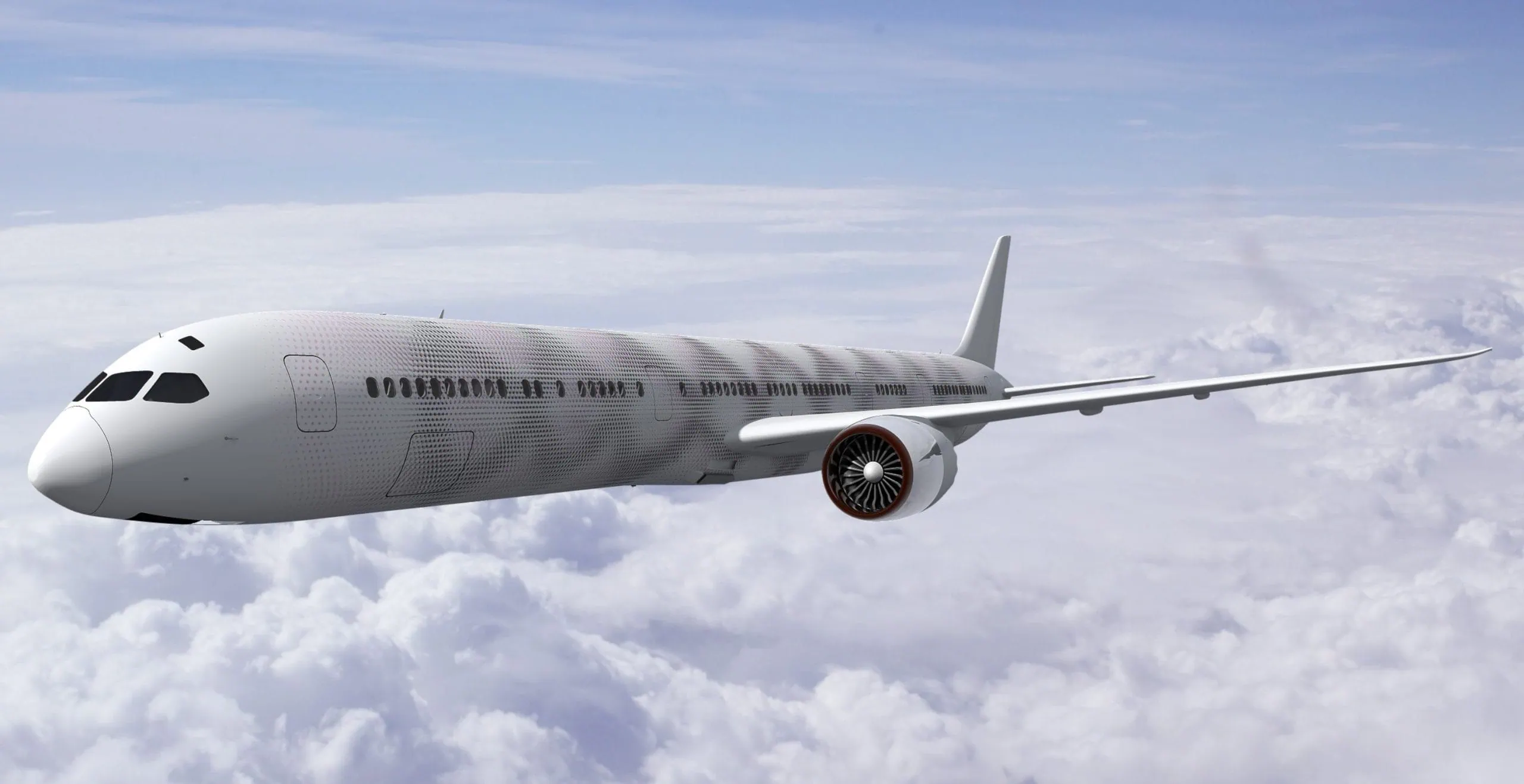 A livery that flows from the exterior to the interior, with use of similar colors and tones to present an aircraft that truly impresses.
There are numerous examples of private jets the world over, yet there are few so unique. To label them an private jet would be akin to calling the Mona Lisa just a headshot. Yes, VIP Completions provides its clients a unique custom jets but what is more unique is how we deliver them. VIP Completions is a project management company that provides the essential oversight and assurance you need to ensure delivery to reality not just in the studio. Because the design of a custom jet is one thing, yet ensuring the very same airplane is delivered to reality is something else.
We Start The Journey With You
To concept a custom jet we don't start with the aircraft, we begin the journey with you. Because unlike traditional companies, your custom VIP jet is created around your desires, not ours. VIP Completions Ltd. has always been forward thinking. And that's exactly what your experience with us will be. Pioneering. Innovative. Ahead of its time.
When you select VIP Completions Ltd. you have decided to buy more that just a VIP jet. From idea to delivery we provide you the oversight and assurance that high-value complex assets require. We ensure each and every phase is planned, commuincated, and monitor delivery to ensure your custom jet is delivered to you as expected, through a discrete and private one-to-one service.
Award Winning Projects by VIP Completions Ltd.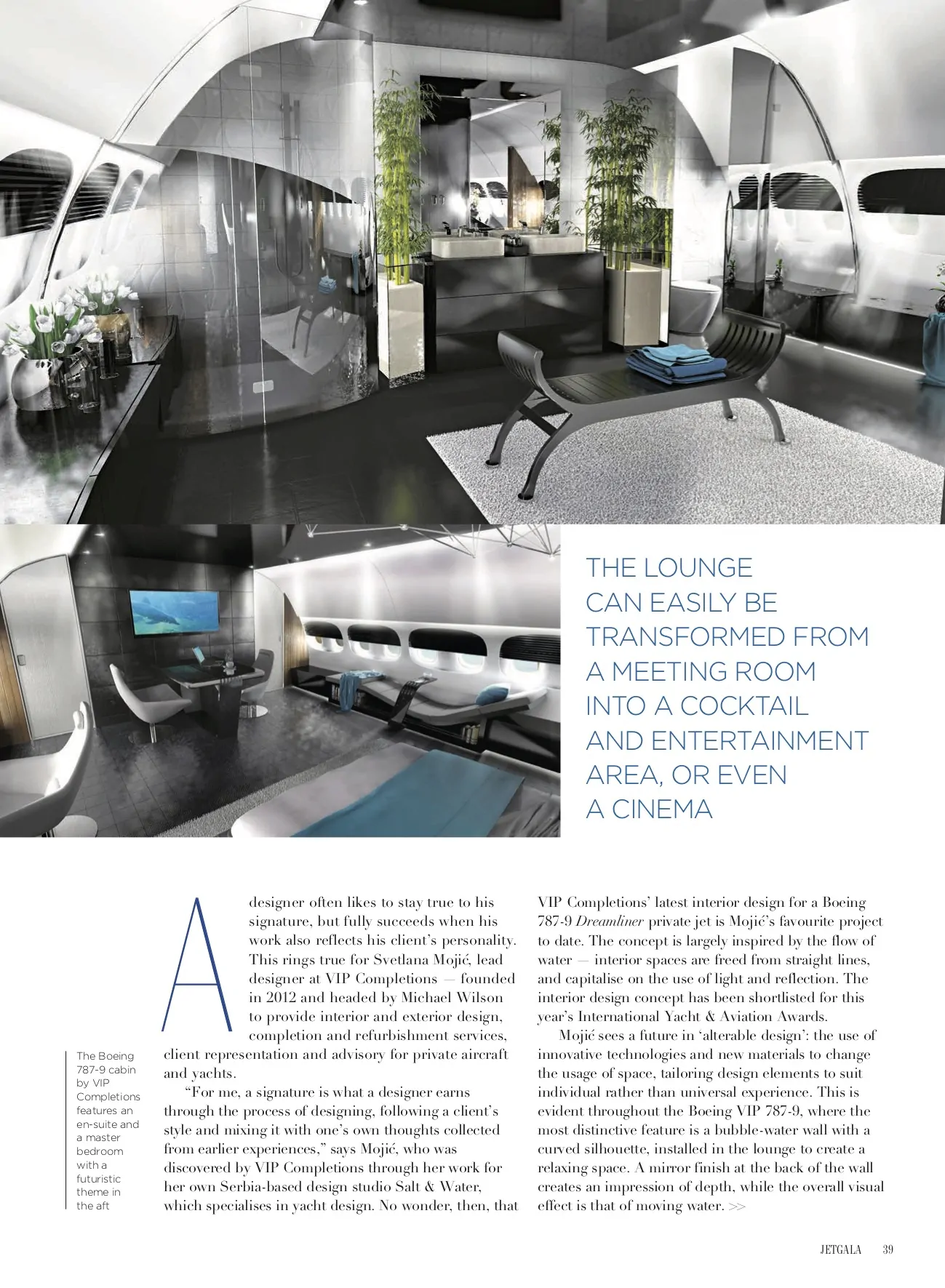 Discover more and create your ideal aircraft or yacht
Services to help you create your ideal aircraft or yacht.