Design options for the ACJ320 series.
The Best Jet Interiors Depend On It.
VIP Completions jet interiors are not just designed for the perfect aesthetic. They're designed for the perfect fit too, focusing on the environment and geometry of each space. From entry to the aircraft to walk-through to the aft, we reach unprecedented feats of engineering — and imagination, by devising new ways to do more in less space. Until perfection is reached, we ensure as many iterations as required are produced. Which in turn is the process that make our interiors more comfortable, practical, desirable, and unique than any other.
The same space. Different configuration.
There are many different reasons for a custom jet. Therefore it would make sense that those many different reasons result in a different need from their jet interior. 
Head-of-State, Governmental, Corporate, Private or Charter; singular or multi-use, there are many considerations in the use of the cabin space, the material, colors, capabilities, capacities and more to ensure your jet delivered meets your needs. 
There are also many considerations in the process, from buying your jet to ensuring the custom completion is completed to your requirements, budget, and timescales, VIP Completions provide you more that a custom jet to meet your needs. We work with you, and your team, from idea to completion, ensuring that the delivery process is planned, managed and delivered to plan; ensuring your interests are represented, risk identified and managed, your asset protected. and holding the completion center to account as per contract.
VIP Completions Limited is a program management oversight and advisory consultancy that specializes in the management of custom aircraft completion programs and custom yachts for clients, providing a one-to-one, private and discrete service. 
Client initial design for an ACJ321.
Example of an initial design produced by the clients designer for this project to meet the clients brief.
VIP Completions is a project management company that provides the essential oversight and assurance clients need to ensure delivery in reality, not just in the studio. Because the design and completions of a custom jet is one thing, yet ensuring the very same airplane you desired is delivered to reality is something else.
We Start The Journey With You
To concept a custom jet we don't start with the aircraft, we begin the journey with you. Because unlike traditional companies, your custom VIP jet is created around your desires, not ours. VIP Completions Ltd. has always been forward thinking. And that's exactly what your experience with us will be. Pioneering. Innovative. Ahead of its time.
When you select VIP Completions Ltd. you have decided to buy more that just a VIP jet. From idea to delivery we provide you the oversight and assurance that high-value complex assets require. We ensure each and every phase is planned, commuincated, and monitor delivery to ensure your custom jet is delivered to you as expected, through a discrete and private one-to-one service.
Award Winning Projects by VIP Completions Ltd.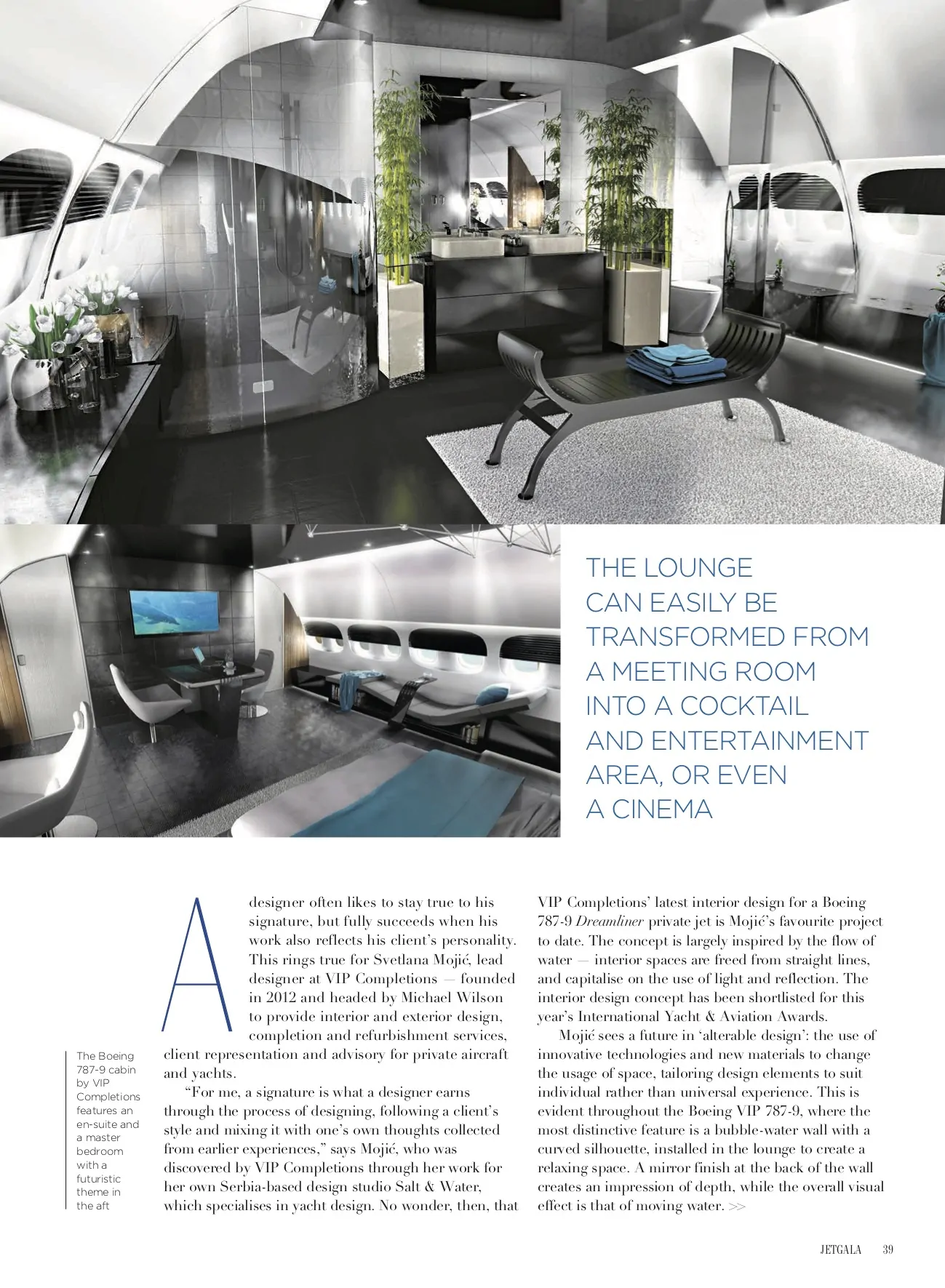 Discover more and create your ideal aircraft or yacht
Services to help you create your ideal aircraft or yacht.